On a hot, sunny day, we were invited to the All-Star Ruckers game by Rucker clothes line promoter Ron Stewart. At the All-Star game there was a slam dunk and a three point shooting contest at Rucker Park on 155th sreet and 8th Ave. Over two hundred people came to cheer on the young contestants.
Security was tight throughout the park. The security company used was "Up and Arms Security" who also worked for a spy shop run in Brooklyn, "Tec-One" spy shop. The store is found in the Brooklyn Mall and has been there for about a year and a half. The Up and Arms Security has worked for Rucker since 1994-1995.
For the Slam dunk contest, a contestant named Hollywood, did cart wheels then slam dunk the ball into the net. Another contestant named Smiley, did various Slam dunk stunts. He and Hollywood were the best contestants. Hollywood had a hard time getting the ball into the net, but he kept trying . You could tell he did a lot of practicing. In the end, Smiley came in first place and Hollywood came in second. Smiley was not availible for an interview. Hollywood and Smiley both won Black and Silver Rucker gear. But it was the first place Rucker winner, Smiley, who won a year's worth of Rucker gear in black and silver, colors only worn by family and close friends.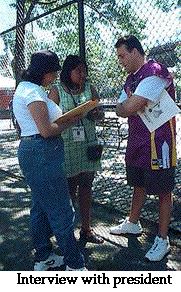 We met many people, one of whom we interviewed was Spiro Maroulis, an Advertising and Promotion Assistant from Slam Magazine. Slam is a sports magazine that has been out for 5 years. Mr. Maroulis started off as an intern-student 3 years ago and decided he wanted to stay. He was offered the job and has been working there ever since. While he was interning he attended St. Johns College in Jamaica Queens N.Y.
Another person we met was Freaky Fred. Very cool and down to earth, Freaky Fred has a great sense of humor. At 23, he owns a promotion business and is very excited about what he does. He was betting on the players and he won five dollars. He kept jumping up and down cheering people on. That is good team work.
Famous NBA players have played at Ruckers. Some real greats like: Allen Iverson, Stephan Marbury, Joe Smith, Terry Dehere, Malik Sealy, and Kevin Garnett.
It has been rumored that if you are a NBA player and you haven't " blessed the courts at Ruckers" then you're not an official player.
Jamal Mashburn was what you could say born on the courts. Mashburn grew up in the Housing apartments across the street which is known as " The Polo Grounds".
On September 23, 1998, Harlemlive interviewed Phil Rucker the son of the the creator of Rucker Park ( Holcomb Rucker ). The Rucker basketball tournaments were started in 1950. Mr. Rucker invented summer basketball because he didn't want it to only be a winter sport. This helped basketball become a seasonal sport, a sport played year round.
Holcomb Rucker started the first summer basketball tournament . There were a lot of problems while he was striving for his goal. He had his peers laughing at him even though his dream turned out to be a major success. Holcomb was the first one to use basketball and education together. He got guys that were in gangs and in the streets to play. They also had to go to school and do homework. If they had any problems and were not able to do certain tasks when it was time to graduate from high school, they were sent to a prep school which prepared them for college. Over three hundred young people were sent to college such as Bob McCuller and Tony Rogers (professional basketball players). Mr. Rucker used to work from 5 a.m. to 10 p.m., 7 days a week. Mr. Rucker, who passed away in 1965, was only 38 years old, had accomplished his goals and left behind some very great traditions.
Ruckers gave black players an opportunity to play. Back when the N.B.A. first started, there were only about 1 or 2 Blacks per team. There were few opportunities like the Harlem Globe Troters where teams of Blacks played together. And also players who didn't have the opportunity to go to college had the opportunity to go to the Rucker to play.
The Rucker tournament began including everyone. Women and people from Brooklyn, the Bronx, New Jersey, and Harlem all participated. Famous players Conney Hawkins and Roger Brown came from Brooklyn and Dr. J came from Long Island.
Money for the tournaments was donated by clubs, bars and a great deal of help came from Snookie Sugarbowl,another famous basketball player.
Basketball now has become apart of the hip hop and musical culture. Since the sugar Hill gang when they phrased in their song " I would'nt take a sucker or a ball from the Rucker". Other rappers such as LL.Cool J would keep the Rucker's name alive. It's a cultural phenomenon.
Some more of the players who played at the Rucker were Senator Bill Bradley from New Jersey and Earl Manigault who was a great legend who is now deceased.
" All Rucker organizations must come together," said Phil Rucker at an interview in HarlemLive's lab. "I would love to get a street or school named after my father".
We need to make sure young people are being steered into positive directions."
Rucker Park Goals:
Expand seating capacity (Right now the capacity is only about 1500)
Put up a canapy for the weather conditions
Add some dressing rooms, restrooms, and showers
Last but not least, keep the qualities from the past years



---
For Further Information contact Bob McCullough
Email: ruckerprolegendseachoneteachone@yahoo.com
Phone: 212-348-3010